Recognition For CTC&B at the Coaching At Work Awards 2021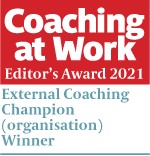 We are delighted to announce that Coaching Through Covid & Beyond has been awarded the External Coaching Champion Award (Organisation). 
The Coaching at Work Editor's Awards 2021 ceremony was held online at Coaching at Work's annual conference on 23 November. The awards recognise the significant contributions of those championing, innovating, pioneering, modelling and inspiring best practice in mentoring, coaching supervision and coaching.
Coaching through Covid and Beyond has been providing pro bono professional coaching to an NHS workforce facing immense challenges, since the first surge back in March 2020, and has now coached over 550 clients and picked up the External Coaching Champion Award (Organisation).
The nomination comments included:
"A tirelessly ambitious and passionate core team rallied hundreds of qualified coaches and connected with clinicians to co-create an open access coaching service, that was up and running within days and sought to be agile and responsive to the needs of its audience. Though CtC was conceived in a time of crisis it never compromised on its standards, with all coaches being highly experienced and accredited and capable of dealing with the complexities of coachees on the front line. The infrastructure to support and develop the coaches themselves added a layer of resilience and depth to the CtC programme. Mark McMordie (who initially conceived of the idea for CtC and led the programme through its first critical six months) and the CtC team embodied the core values of compassion, mindfulness and psychological safety and these infused all aspects of the CtC project…. Coachees reported feeling calmer, more resourced and better able to deal with the uncertainties of their stressful working environments with direct benefits to their personal and professional relationships and ability to care for patients. Feedback describing the coaching as 'life-saving' and as 'psychological PPE' emphasises the profound and timely impact of the CtC programme and is testament to the remarkable vision and commitment of McMordie, the CtC core team and the volunteer coaches.   
CtC continues to respond and adapt to the evolving needs of NHS staff in the aftermath of COVID in the form of Coaching through COVID and Beyond (CtCaB) in 2021. The NHS has never needed this more. "
Accepting the award, one of our co-founders Lindsay Wittenberg said, "The motivation was compassion…we couldn't have done it unless we were the team we were, I'd also like to pay tribute to those named, it's been the most extraordinary journey, to be able to give and contribute in the way we were and are."
Thank you to all our coaches who have continued to offer their time to help our NHS & Care sector workers.